Jeld-Wen's EpicVue™ is one of the most popular designs in modern homes
DURABLE
A design this bold deserves materials that match. Found only at JELD-WEN, AuraLast® pine is an exclusive wood product that provides protection against wood rot, water damage and termites, while an extruded aluminum sash provides tremendous strength and rigidity to stand up to the elements.
CONTEMPORARY DESIGN
Breakthrough engineering and construction techniques enable countless design opportunities. EpicVue™ offers size, shape and customization options rarely seen in contemporary style windows.
GLASS
EpicVue™ offers the most energy efficient standard glass on the market. Choose a direct set window as wide as ten feet and you can expect LoE3-366® glass for energy savings, Neat® glass for easy cleaning, and Preserve® glass for protection during construction.
Sophisticated without being stuffy, unadorned without being plain, EpicVue is built on a philosophy of grand simplicity. Size, while impressive, is but a small aspect of this striking line. Rather, it is through sleek profiles, bold lines and uninterrupted expanses of glass that these seemingly impossible windows are brought to life.
When a design concept is both modern and timeless, its construction should be as well. The EpicVue™ collection uses state-of-the art construction techniques and materials including a thick, extruded sash and frame to ensure that its unrivaled beauty will be enjoyed for years to come. Ease of operation, craftsmanship and strength go without saying.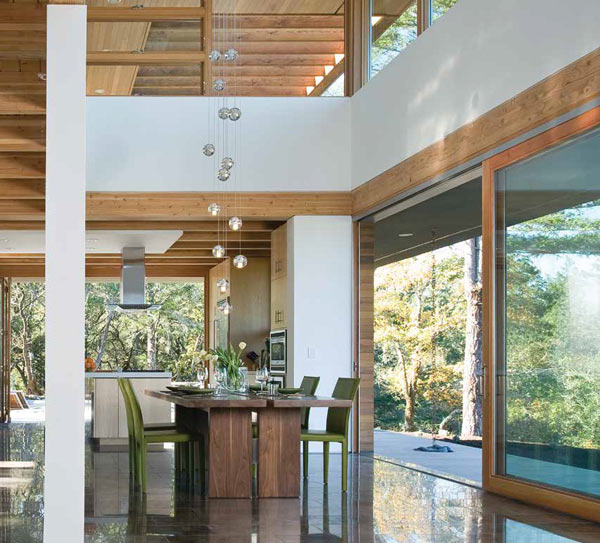 JELD-WEN Auralast® Custom Wood Windows & Doors
When you want windows and doors that offer extraordinary artistry and consistent reliability, select JELD-WEN® Custom windows and doors. Each one is sure to enhance the luxury of your home.
JELD-WEN's Custom windows and doors come in a variety of designs, including those you create yourself.
The only limitation is your imagination.
Add a distinctive touch to Jeld-Wen Custom windows and patio doors with textured, tinted and decorative glass.
JELD-WEN Authentic Wood Doors are constructed with beauty in mind and lasting performance at heart.
JELD-WEN Authentic Wood Doors are constructed with beauty in mind and lasting performance at heart. Traditionally, wood doors were made using stile and rail components machined out of solid lumber. Wood is a living organism that expands and contracts based on changes in temperature and humidity, and the bigger the piece, the more it moves. Many older wood doors show signs of these "changes" with warped stiles or split panels.
JELD-WEN Authentic Wood Doors are skillfully designed with a dense engineered core and shielded with premium wood veneers to deliver the best performance and quality. An even stain match is also achieved due to the solid wood sticking and edgebands that yield superior finished results.
No door makes an impression as inviting as a wood door. Wood brings a sense of warmth and artistry to any home, whether it's elegantly modern or comfortably traditional.
JELD-WEN® Authentic Wood Doors combine the beauty of wood with quality craftsmanship to bring you doors that are visually captivating and reliable.
JELD-WEN® Authentic Wood Doors are available in Pine, Knotty Pine, Kontty Alder, Poplar, Oak, Maple & Cherry Wood.
JELD-WEN Premium Vinyl Window & Patio Doors
JELD-WEN® Premium Vinyl windows and patio doors are made to be durable, energy efficient and low-maintenance. With features such as simulated divided lites, even sight lines and EverTone™ exterior paint finishes, Premium Vinyl windows are suitable for any architectural style or design. So they're just as attractive as they are reliable.
Your home should be a place where you can escape the sometimes hectic and noisy environments of modern living. For that reason, sound reduction is a major consideration when Jeld-Wen designs their products.
JELD-WEN® Premium Vinyl replacement windows are a vast improvement over single-pane windows that are found in many homes today. The improvements in 
Jeld-Wen
 products that address energy performance, such as multi-chamber frame designs, dual and triple glazing and enhanced weatherstripping make them sound efficient as well.
JELD-WEN Aurora® Fiberglass Exterior Doors
These doors feel and look like solid wood (even down to the knots and other character marks). To enhance them, 
Jeld-Wen
 offers luxurious woodgrain finishes and paint colors, sparkling glass options, and charming hardware options to support any design preference and architectural style. The combination of options you select allows you to enjoy a customized look. Whatever you choose, the resulting masterpiece will endure year after year.
JELD-WEN® Custom Fiberglass doors will consistently stand up to any climate—hot or cold, wet or dry—yet they look virtually indistinguishable from solid wood and come with a Lifetime Limited Warranty and a 5-Year Limited Warranty on finish. This makes them the most unique fiberglass doors available today. In fact, they're the world's finest. Jeld-Wen created these reliable and remarkable doors in many architecturally inspired designs and with a vast range of options, which allows you to make 
Jeld-Wen's
 artistry your own.
JELD-WEN Custom Wood Exterior Doors
You want lasting luxury and uncommon artistry. You want the best. This applies especially to your home. It should reflect your personality and accomplishments, while also pleasing your eye at every turn. That's why every element needs to be of the highest quality — the kind of remarkable quality and craftsmanship found in the world's finest doors. Custom Wood exterior doors.
A machine simply cannot replicate the distinctive qualities of something fashioned and carved by hand and imagined by you. In fact, with all the wood species, finishes, glass, hardware, custom carving and other options 
Jeld-Wen 
provides, every Custom Wood door is a unique, customized vision of what you desire. Just bring us your dreams, and we'll craft them into reality. 
Jeld-Wen
 knows that the most pleasing kind of craftsmanship is the kind that's especially for you.