Through years of Research & Development we have achieved & surpassed numerous building code requirements.
Thermally Broken Doors & Windows
Presidio Doors and Windows has solved the issue of your expensive steel doors and windows rusting. 
Rigorous Testing, Superior Product
Presidio's Doors and Windows have been put through rigorous third party testing. Below are some of the results achieved.
Presidio's Fixed Windows have a DP60 wind rating (160 MPH Wind Speed). Presidio Windows have been tested and passed ATSM E 283 Air Infiltrations / ASTM E 331 Water Resistance / ASTM E330 Uniform Load.
Presidio Double Doors have a DP50 wind rating (150 MPH Wind Speed). Presidio Doors have been tested and passed ATSM E 283 air infiltration / ASTM E 547 Water Resistance / ASTM E330 Uniform.
For detailed reports please feel free to contact Presidio directly.
What makes solid hot-rolled steel a superior material? For starters, it is three times stronger than aluminum and sixteen times stronger than wood. This strength allows Presidio to make windows and  doors with the slimmest frames, the greatest amount of glass, and in virtually unlimited scale, shapes, and configurations.
Presidio uses hot-rolled steel for all it's windows and doors in order to provide optimal thermal performance. The raw material conducts heat and cold at one-fifth the rate of aluminum substrates. For even greater thermal performance Presidio offers thermal-break technology.
This advanced thermal-break technology provides exceptional thermal performance and condensation resistance without splitting the steel frame, thus maintaining the proven structural integrity of solid hot-rolled steel windows and doors.
Presidio, hot-rolled steel can sustain the load requirements and achieve the exact aesthetics desired for immense openings, even in areas with the most strict building codes and environmental considerations such as High Velocity Hurricane Zones with our DP80 rated windows and doors.
These words often describe the unique look of Presidio's windows and doors. The narrow and graceful lines belie their formidable strength and ultimate durability. Presidio's windows and doors are timeless in appearance and endure generations.
Thermally Broken and Galvanized Steel door & window options.
What is Galvanizing?
Hot-dip galvanizing is the process of immersing iron or steel in a bath of molten zinc to produce a corrosion resistant, multi-layered coating of zinc-iron alloy and zinc metal. While the steel is immersed in the zinc, a metallurgical reaction occurs between the iron in the steel and the molten zinc. This reaction is a diffusion process, so the coating forms perpendicular to all surfaces creating a uniform thickness throughout the part.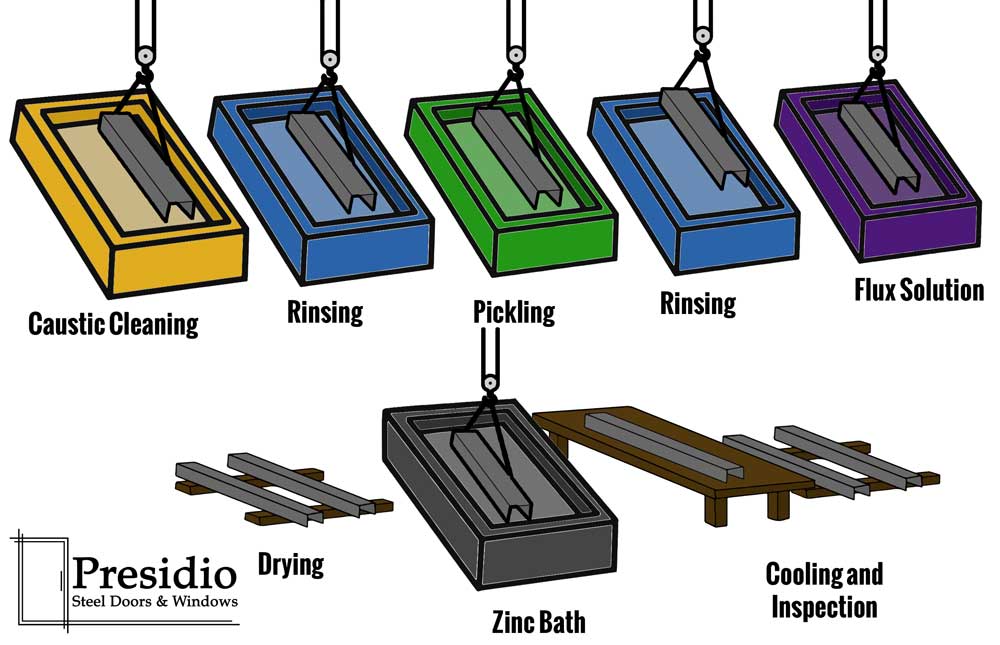 The hot-dip galvanizing process (image above) has been used since 1742, providing long-lasting, maintenance-free corrosion protection at a reasonable cost for decades. Although hot-dip galvanizing has been utilized to protect steel for generations, the galvanizing process continues to evolve with new technologies and creative chemistries. The three main steps in the hot-dip galvanizing process are surface preparation, galvanizing, and post-treatment, each of which will be discussed in detail. The process is inherently simple, which is a distinct advantage over other corrosion protection methods.
Once the steel has been completely cleaned, it is ready for immersion in the zinc bath. The galvanizing kettle contains zinc specified to ASTM B6, a document that specifies any one of three grades of zinc that are each at least 98% pure. Sometimes other metals may be added to the kettle to promote certain desirable properties in the galvanized coating.
The galvanizing kettle is heated to a temperature ranging from 820-860 F (438-460 C), at which point the zinc is in a liquid state. The steel products are lowered into the galvanizing kettle at an angle, and stay in the bath until the steel heats to the bath temperature. Once the diffusion reaction of iron and zinc is complete, the steel product is withdrawn from the zinc kettle. The entire dip usually lasts less than ten minutes, depending upon the thickness of the steel.
There are many other types of corrosion protection systems, such as coating steel with oil, grease, tar, asphalt, polymer coatings or paints, or corrosion resistant materials such as stainless and weathering steel, sacrificial anodes, plating systems and impressed current systems. These are some of the most commonly used corrosion protection materials and systems and are sometimes used in conjunction with hot-dip galvanized steel. Most of these materials rely on barrier protection, while some of them rely on cathodic properties to resist steel corrosion. The most effective system that provides both barrier and cathodic protection is hot-dip galvanizing.
(Source)
HELPFUL AND COMPREHENSIVE DESIGN ASSISTANCE
Presidio Doors helps guide you along the way to ensure your vision is achieved. Presidio Doors has earned a reputation for continuously achieving new possibilities in window and door design. Offering more interesting forms on the grandest scales and with more dynamic functionality, no design is too ambitious for Presidio Doors. ANY STYLE IMAGINABLE
Whether new construction, remodel, retrofit, or historic preservation, architects and designers incorporate Presidio Doors' windows, skylights, and doors into every variety of architectural style from grand renaissance and gothic revival to imaginative avant-garde and postmodern luxury homes.
To achieve the longest life cycle potential for Presidio Doors' steel windows and doors, Presidio Doors' provides the world's most advanced finishing system available. Developed in cooperation with top U.S. metallurgists and architectural coatings suppliers, Presidio Doors' finishing system is engineered to ensure that windows and doors remain pristine and free from corrosion decade after decade, even in the harshest of environments. For the top coat there are unlimited color choices, including metallics and patinas. You can also work with Presidio Doors to create a custom color to perfectly integrate with your design.
Other Specifications
Contemporary & Ornate Designs
Door Unit
PRE-HUNG UNIT Door Jamb and Frame are pre-assembled ready for installation. FRAME Standard width of 4" Custom sizes of 6,7, or 8 inches can be done when exterior requires wider frame (e.g. Stone or Brick). DOOR JAMB Constructed of wrought iron with 1-½" thickness TYPE OF IRON USED 14-gauge iron WEIGHT Approximately 250-300 lbs. Per door. HARDWARE Standard specs are used for all doors, 2-1/8" boring, 2-3/8" backset, 5-1/2" center to center.
Insulation
Frame and Body filled with insulating foam.
Weather Stripping
Rubber weather strip is applied around door and glass frame along with a rubber sweep that is attached to threshold at the bottom of the door. The combination of the weather strip and rubber sweep creates a sealing agent that makes the whole unit weather tight.
Threshold & Sweep
The door swings 1-5/8" above the foundation to provide room for the threshold (1-1/4") and sweep (3/8"). If the distance between the bottom of the door and foundation is to be greater than 1-5/8", that height should be specified before installation.
Glass
TEMPERED For safety 1/4" or 5/8" Tempered glass is used for all doors. DUAL PANE Best insulation. Two insulated glass panes sealed with air in between with metal edges. Panes are separated ¼" or 5/8".
Rough Opening
MEASUREMENTS Given the desire size of the door unit, we will provide the builder with measurements for the rough opening. If the rough opening has been previously framed in, the door unit can be made to accommodate the rough opening. We will need exact measurements of the existing rough opening.
ROUGH OPENING The rough opening should have triple solid studs so the unit can be securely attached.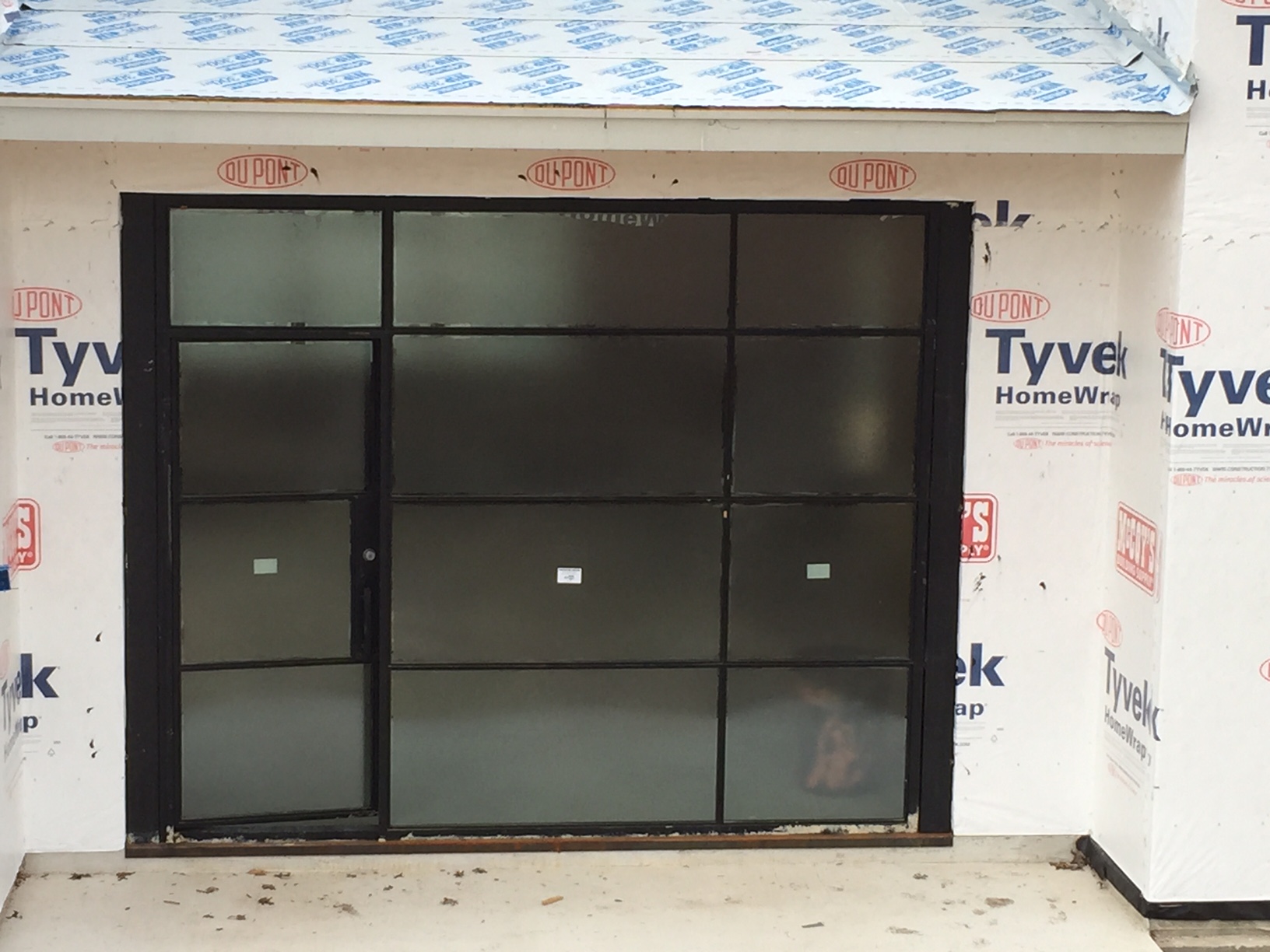 Installation Process
PREPARATION The area for the door unit should be ready for installation perfectly leveled, clean and void of obstructions. SHEETROCK The door unit will be flushed with ½" sheetrock unless specified before installation AFTER INSTALLATION Door is installed and covered with plastic to keep it from damage while the rest of the home construction is finished.
Final Step
FINISH When home construction is finished the company will send out trained installers to do a final re-touch up. GLASS Glass will also be installed at that time. HANDLES Can be purchased directly from Presidio Doors. Only handles purchased from Presidio Doors will be warrantied by Presidio Doors.
Custom Wrought Iron Door Specifications:
The door thickness is 2"
The weight of the doors will differ depending on the style and size. A 3"0 x 8"0 door weighs approximately 200-250 lbs.
The glass frame comes ready to accommodate 5/8" tempered glass. Other sizes of glass can be tailored if specified at the time of the order.
Our specs for standard hardware are 2 1/8" boring, 2 3/4" backset, 3" backset handle manufactured on door with heavy duty roller latch.
The doors come on a pre-hung unit with a steel frame. The steel frame supports the weight of the door and allows ease of installation.
Price does not include components of interior trim or finish carpentry.
All of our doors come insulated at no additional costs. We use high quality foam insulation that is pumped into the frame and also into the body of the door.
Extension flush bolts are used on double door units. The flush bolt is the mechanism that locks the inactive leaf of a double door unit. One flush bolt locks into the top of the door frame and the bottom flush bolt locks into the threshold/floor.
Our doors are constructed of 14-18 gauge steel framing.
A combination of foam and rubber weather stripping is used around the doorframe.
The weather stripped glass frame and the rubber sweep make the door weather tight.
The glass frame can be tailored to accept almost any glass thickness in accordance to building requirements in your area.
There is the option for the swing of the door to be in or out.
If the doors are being used on a commercial building, they must swing out and have a closing mechanism.
Lever handles cannot be used on the inside of a double door as they interfere with the ability to open the independent glass panel.
Eyebrow, half circle, and elliptical arches can be used in transom designs.
Any of our designs can be made as a single or double door or with any of the arch shapes incorporated in the design of the top of the door.
We can manufacture patio doors or wine cellars entries with simple modifications. We can also custom build new designs according to the needs of the clients.